NASA discovers star system with 8 planets
(source; English Online)
NASA has discovered the eighth planet of a star system, similar to our solar system. The star, Kepler-90  is over 2,500 light years away and larger and hotter than our sun. It is the first star known to have as many planets as our solar system.
The Kepler-90 star system is much more compact than our solar system. The outermost planet orbits the star at about the same distance as the earth orbits the sun.  its inner planets are small and rocky while the outer ones are larger and made up of gas.
The newly discovered planet, Kepler -90i, is the third celestial object in the star system. It is probably rocky and similar to our earth, but because of its closeness to its home star has an average surface temperature of about 400° C. It moves around the star once every 14.4 days.
The discovery was made based on data provided by the Kepler space telescope. Launched in March 2009, the telescope has constantly been scanning certain sections of the universe in search of new stars and planetary systems. Up to now, over 2,000 new worlds have been discovered.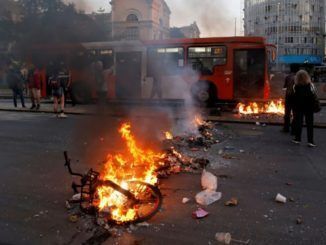 Piñera declares emergency in Santiago de Chile after violent metro fare protests
Source; The Santiago Times.
SANTIAGO – The Chilean government established on Friday night a state of national emergency in the capital Santiago and surrounding areas following extensive arson, rioting and looting in the city by students protesting transport fares, particularly subway fares, which are considered among the most expensive in the region.
With his decision president Sebastián Piñera has turned the city's law and order, temporarily under the control of the military in an attempt to control the chaos and destruction in the country's capital.
The protest by students began on Monday when hundreds of young people mobbed several stations in Santiago, jumping over or dipping under turnstiles to protest a 4% increase in subway fares from about US$1 to US$1,16. Chile doesn't produce its own oil and must import its fuel, leading to high prices for gasoline, electricity and elevated public transportation costs.
By the end of the week the protests had turned violent with students breaking gates, shattering glass and throwing debris onto the electrified rails. The situation further deteriorated when some seven stations were set on fire, bank branches and supermarkets attacked and the country's main electricity company headquarters building, –several stories high–, emergency facilities were ignited.
The subway service in Chile's capital was suspended at least until Friday, trapping hundreds of thousands of commuters on their way home from work. By nightfall, the protests had extended throughout Santiago. Television images showed students and others attacking police vehicles, throwing stones and burning buses, along with scenes of destruction of public and private property
Police who had been trying to break up the protests with tear gas withdrew from some subway stations.
Transportation Minister Gloria Hutt, who earlier rejected lowering fares, said "it's possible that during the next week the functioning (of the subway system) returns in a gradual fashion."
But to make things worse, while all the destruction and protests mostly in downtown Santiago and thousands stranded because of the transport chaos, President Piñera was caught on video in a family party, celebrating a grandson's birthday at a pizza parlor in one of Santiago's residential areas, where residents were not aware of the tear gas or rubber bullets.
The government filed a complaint under the State Security Law against people who damage the subway system or prevent its normal operation, according to Interior Minister Andrés Chadwick. The law carries prisons sentences of three to five years for offenders.
The National Coordinator of Secondary Students, one of two groups representing high school students, called for the protest to be continued, and a major action has been planned for next Monday.
Metro officials say the fare price was raised because of a devaluation of the currency, rising fuel costs and the need for maintenance.
Chile is usually named as a show case of business friendly atmosphere and correct macroeconomic policies, and as such is a privileged member of the OECD. But it also figures at the bottom of the list in that organization when it comes to education, health and social services ratings.–MercoPress
How liquid air could help keep the lights on
By Roger HarrabinBBC environment analyst




Source: BBC News

It sounds like magic but it is real – a plan to store cheap night-time wind energy in the form of liquid air.
Here is how: you use the off-peak electricity to compress and cool air in a tank, so it becomes a freezing liquid.
When demand peaks, you warm the liquid back into a gas, and as that expands it drives a turbine to create more electricity.
The technology, created by a backyard inventor, is about to hit the big time.
It has been tried at small scale but now the firm behind it, Highview, has announced that a grid-scale 50MW plant will be built in the north of England on the site of a former conventional power plant.
The technology has been supported by the UK government. One attractive feature is that it uses existing simple technology developed for storing and compressing liquefied natural gas (LNG), so unlike battery storage it does not require mining for rare minerals.
The key innovation is to store the excess heat given out when the air is compressed and use it to re-heat the liquified air when it is needed.
The idea was promoted by self-taught engineer Peter Dearman from his garage in Bishop's Stortford, Hertfordshire.
He had been developing a car run on similar principles with liquid hydrogen and saw the potential for applying the technology to electricity storage.
He is now a passive shareholder in Highview, which is hoping to play in the big league of storage.
He told BBC News: «It's great news – very exciting. There's such a lot of potential in these technologies.»
'Carbon free future'
The proposed grid-scale project will supply electricity to around 25,000 homes for a day, although realistically it will only be used for short periods to cover sudden peaks in demand.
The firm's boss, Javier Cavada, said the plant will be built on the site of a former disused power plant.
He said: «This plant will provide the critical services needed to help maintain a stable and reliable grid. Giga-scale energy storage will be key to a 100% carbon-free future.»
Professor John Loughhead, Chief Scientific Adviser at the government's business and energy department, has previously praised the technology.
The Electricity System Operator, which manages supply and demand in Britain, said they expected the Highview plant to bid for contracts in the market for flexible electricity.